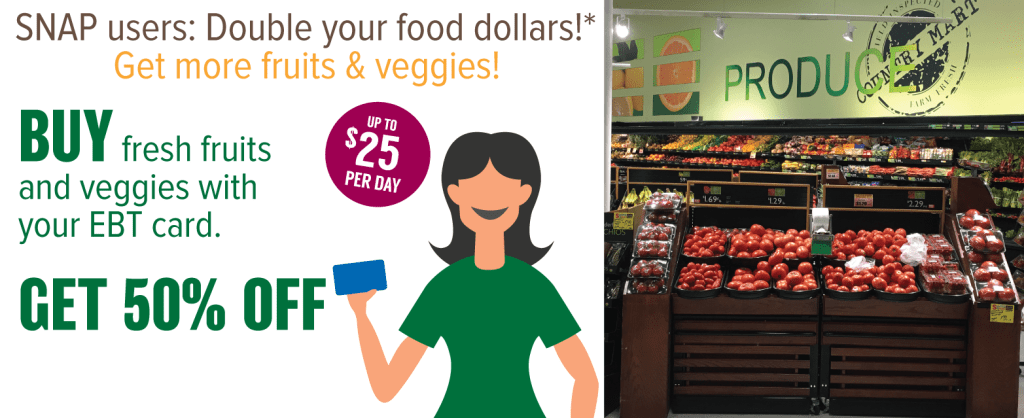 *Program available at Town & Country Super Market, Inc. locations in Missouri. For a full list of locations, click here.
How it works:
Shop at any of our Town & Country Supermarket, Country Mart, Apple Market or Price Chopper locations in Missouri.

Select from our fresh produce selection and proceed to checkout when ready.

Let the cashier know you want to pay with EBT and use the Double Up Food Bucks discount.

Separate fresh produce from other grocery items and place fresh produce items on belt first.

Cashier checks out fresh produce items and enters 50% Double Up Food Bucks discount on fresh produce items (coupon amount cannot exceed $25). Discount will appear on the screen and receipt.

Cashier checks out the remaining grocery items and provides total.

Swipe your EBT card in the payment machine when prompted. Enter PIN when prompted.

Take your groceries and have a great day!
Frequently Asked Questions:
Why isn't this program available to non-EBT shoppers?
SNAP recipients, primarily children, are disproportionately affected by poor nutrition. This is a federally-funded program only available to SNAP/EBT shoppers to ensure they have the opportunity to use their benefits to purchase fresh produce items.
Why isn't this program available in other stores?
Funding is limited. In Kansas and Missouri, we prioritize independently owned grocery stores to keep SNAP/EBT food dollars spent in the local economy. You can find all locations in KS/MO at doubleupheartland.org.
What products are eligible for Double Up Food Bucks?
Fresh fruits and vegetables in their natural state with no added sugar, salt, or preservatives are the only eligible products for this program. Canned and frozen items, bagged salad kits with
dressing, and fruit cups or juices with added sugar are not permitted. Items that have only been cut and packaged but NOT processed in any way are acceptable.
If I have an EBT card from another state, can I earn Double Up?
Yes, you can use Double Up Food Bucks using any state's EBT card.
How does the program work at the farmers market?
The program model is different for the farmers markets. The customer is given extra tokens to spend on fruits and vegetables at the different vendor booths. The famers market tokens, or any other coupon/script/loyalty card cannot be used at Town & Country.