INGREDIENTS: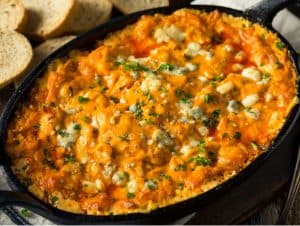 • 8 Oz. Cream Cheese, Softened
• 1 Cup Louisiana-Style Hot Sauce
• 1 Cup Ranch Dressing
• 3 Can's Chunk White Chicken, Drained & Shredded
• 1 Cup Shredded Cheddar Cheese
• Thinly Sliced Green Onions
DIRECTIONS:
In a small bowl, combine the cream cheese, hot pepper sauce and salad dressing. Stir in chicken. Spread into an ungreased 11-in. x 7-in. baking dish. Sprinkle with cheddar cheese. Bake, uncovered, at 350° for 20-22 minutes or until heated through. Sprinkle with green onions if desired. Serve with tortilla chips.