INGREDIENTS: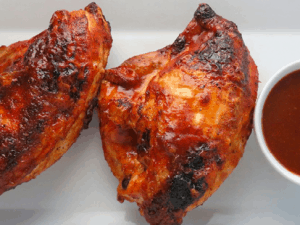 • 2 peaches, peeled, pitted, chopped
• 3/4 cup peach nectar
• 1/2 cup ketchup
• 1 tablespoon molasses
• 1 tablespoon white vinegar
• 2 teaspoons Dijon mustard
• 1 teaspoon Worcestershire sauce
• 2 tablespoons chipotle salsa
• 1/4 teaspoon liquid smoke
• Hot sauce, to taste (optional)
DIRECTIONS:
Place all ingredients in a saucepan over medium-high heat. Bring to a boil then reduce to a simmer and simmer for 20-30 minutes or until the sauce has thickened. Remove from heat and let cool slightly before placing in a food processor or blender. Process until the desired smoothness is achieved.