Roast Beef & Sun-Dried Tomato Roll Ups
INGREDIENTS: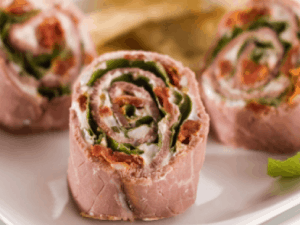 Ingredients:
• 1/2 Lb. Roast Beef, Sliced
• 1/2 Cup Cream Cheese, Softened
• 3/4 Cup Sun-Dried Tomatoes Packed In Oil, 
   Chopped
• Fresh Basil, Chopped
DIRECTIONS:
Spread each slice roast beef with cream cheese. Top with sun-dried tomatoes and sprinkle with basil. Roll up tightly. Place on serving plate, cover with plastic wrap and refrigerate 1 hour or until firm. When ready to serve, cut each rollup into bite-size pieces. Secure with cocktail picks.